An amazing weekend for Pow Wow at Camp Rainey Mountain
There are no pictures of the food because it was so amazing I couldn't think about anything except how delicious it was. To top it off there was homemade ice cream and deserts from the Chapters.
The games were fun but the Machque Chapter dominated the Ultimate Frisbee. I sincerely believe that I was watching an NFL team playing frisbee. Machque had a new member from Troop 440 who fit right in, scoring 6 goals, as you can see in the picture below, he was flying!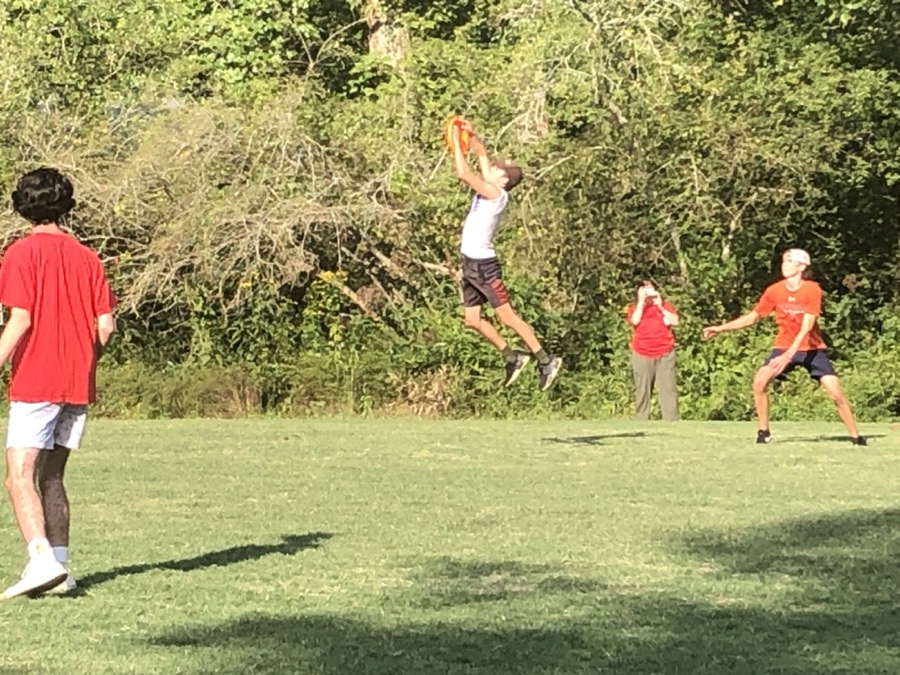 One Troop provided a Bike Backpacking presentation that was funny and educational. There were Great fellowship, live and silent auctions for patches, food, training, and games. What an amazing time.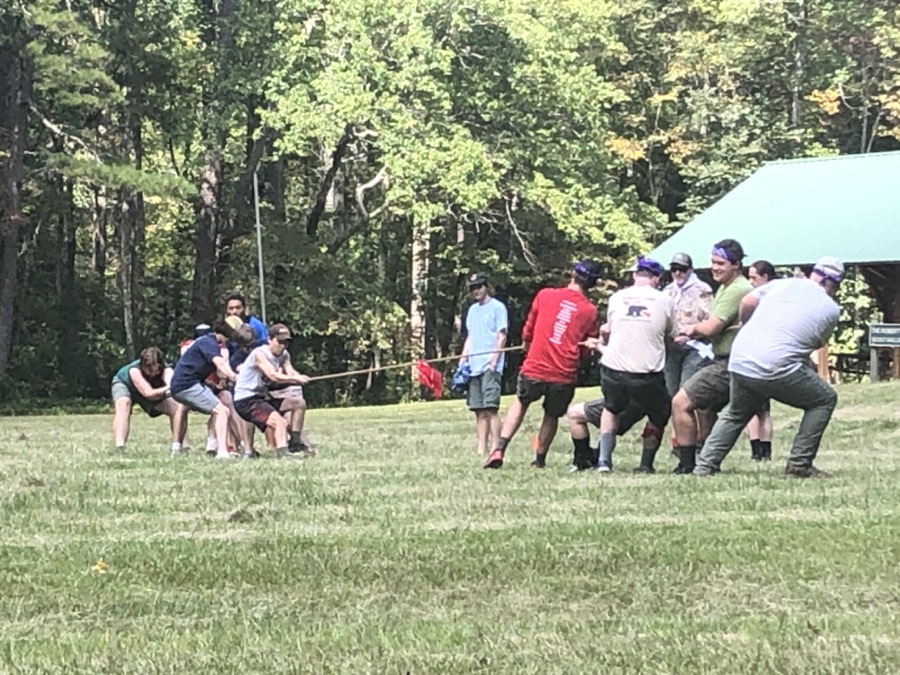 District Updates
Advancearoma/Training
The district Advancearoma didn't come together this year. However, we will keep working on it. In the meantime, there will be Den Leader and Den Cheif training available at the Oct. 1st NOVA event. Also, we are planning to have Baloo / IOLS training available at the Nov. 4th Camporee. Please contact our Training Chair, Laura Scott.
Cubmobiles?
Spread the word, we are looking for builders who can save up some lumber to build some Cubmobile cars. This will add a fun District event to add to our fall schedule. Please tell your Cubmaster to contact David Grubb.
Webmasters
Webmaster is a Troop position. If you would like to publish articles about your Troop or projects then you may submit them using our website form. If you would like to learn more and become a webmaster, then ask your Scoutmaster to contact David Grubb.
Upcoming Events
Sept 25-27 Powderhorn Training Weekend 2 of 2 Camp Rainey Mountain Advanced Training
Sept 25 Mountain District MBC Link to the Website (Merit Badge Counselor night)
Sept 30-Oct 2 Climbing Instructor Training Camp Rainey Mountain
Oct 1 Mountain District Fall NOVA – Cubs Cherry Log Craddock Center
Oct 2 Mountain District MBC Link to the Website (Merit Badge Counselor night)
Oct 7-9 Climbing Weekend – Scouts Camp Rainey Mountain
Oct 8 Sorghum Festival Blairsville
Oct 8 Shooting Sports / Archery Merit Badge Day Camp Rainey Mountain
Oct 8 Mountain District Aviation Merit Badge Day Copperhill Airport
Oct 9 Mountain District MBC Link to the Website (Merit Badge Counselor night)
Oct 13 Mountain District Roundtable 7:00 PM Epworth United Methodist
Oct 14-16 Curahee / Mountain Fall Family Camping Camp Rainey Mountain
Oct 15 Tali Atsila Outdoor Training Day 1 of 2 Scoutland Advanced Training
Oct 16 Mountain District MBC Link to the Website (Merit Badge Counselor night)
Oct 23 Mountain District MBC Link to the Website (Merit Badge Counselor night)
Oct 30 Popcorn Orders Due
Nov 4-6 Mountain District Camporee Hiawassee area