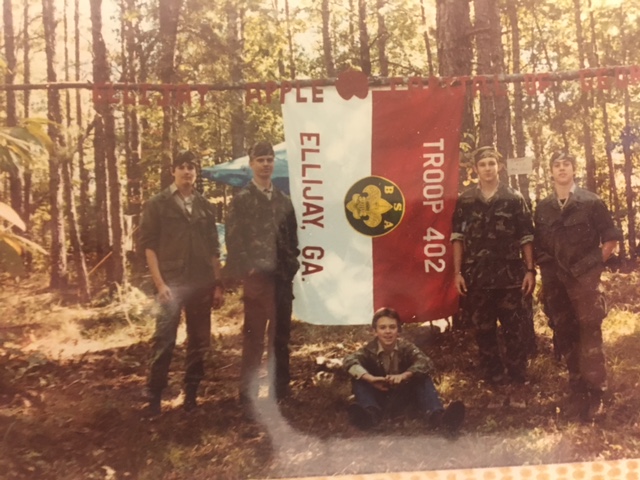 Looking back over my almost 50 years of scouting, one thing I've noticed (and been jealous of so to speak) is that the most successful troops know and pay honor to their history. I think that this is one reason why BSA came up with the Scout Lore merit badge – because they knew the importance of legends and the power that is associated with them. Legends cause us to have a high water mark to shoot for and boys LOVE them. They love knowing things that other people don't know. There's nothing like the satisfying look on a boy's face as he reveals the "secrets" to an adult who doesn't know them
One thing you may be interested in knowing is that I've been putting together a collection of all camporee and event patches from the Mountain District. I think I've got some of the first camporee patches ever produced for District 4. I have obtained many of them from OA auctions over the years and plan to hopefully put them on a blanket or a display case to be used at camporees for the boys to see their legacy. I've got most of the Young Harris Merit Badge College patches as well.
I have tons of photos, newspaper articles, and history of Troop 402. THE troop in Ellijay used to be Troop 115. Troop/Pack 115 was chartered by the Methodist church and produced many awesome Eagle Scouts and scouts. Around 1977 pack 115 folded and T115 started struggling. At that time, one of the principal leaders of the troop was a man named Dan Harley – a teacher at Ellijay Elementary (6-7th grades). He was a hemophiliac and later died of hepatitis from a bad blood transfusion.
In about 1972, James Holt, the pastor of FBC Ellijay, decided to charter a cub program through the Baptist church. He has a son who is one year older than me and wanted him to have the opportunity to be a Scout. I joined Pack 402 it in the second grade in '73/'74 and it had been up and running for a year. Barbara Huff and Barbara Thomas were the den mothers and Jim Huff was the Cubmaster.
I crossed over into T115 in 1977. By the end of that year T115 had folded into Troop 402 and rechartered as T402 in 1978. Pastor Holt got Jim Huff to become the Scoutmaster and we started the troop with about 18 youth. Jim was a local pharmacist who belonged to a family of pharmacists. His father, GL Huff, was a silver beaver recipient and I think an Eagle Scout from T115. The District Executive was a man named Bob Gettman (Frank Harper ran into him at the Summit in 2013).
It's funny that our troop was not always known as the troop who was always perfectly uniformed. But we knew what we were doing. Nick Wimberly was SM of T32 and as you can imagine was very particular. His guys were always perfectly uniformed and they always had camp gateways, camp gadgets, etc. going on. T402, on the other hand, were almost always dressed in army fatigues and having "commando raids" at night. We gave Nick fits and I got in trouble with him almost every outing that involved the District.
Our troop was among the first to send participants to the new NEGA program at the Mountain Ranger Camp and I attended it the second and third years. Our SM Jim Huff had to start working on the weekends and I think his brothers were giving him a hard time for not working the pharmacy as much as he should. One of the former T115 scouts who had been 5 years behind me had just gone off to college at Ga. Tech. (Randy Durden). Jim worked out a deal with him to be the weekend outdoors leader for our outings and that Jim would continue to run weekday meetings.
We attended CRM summer camp in 1977 as a troop.
I first remember Randy from the 1978 Wild Water Weekend held by the Mountain District on the Ocoee. We had a camporee there in '78 and '79. He also took us to the Mountain Ranger Camp in 1978 and in 1979. Many boys from Troop 402 attended the 1981 National Jamboree at Ft. AP Hill Va. I didn't get to go because we were also planning a trip to Philmont and my parents made me pick between the two (I made a good choice).
We attended CRM Summer Camp in 1978 and 1979 as a troop.
In 1980 our big trip was Cumberland Island – we took 8 boys and 2 adults – Jim Huff and Bill Yarborough were the adults – we stayed a week. We also went to CRM summer camp in 1980.
In 1981 Troop 402 had its first OA elections. Tim Bryan, Mike Huff, Joe Holt, Frank Harper, and Earl Harris were elected (I think that's all of us). All of us except Frank attended the Ordeal at CRM at Spring Fellowship in March. Frank went to Pre-Camp in May. I was later elected as the chapter chief and we held OA tap outs the next year at Bear Creek. Frank went on to be elected as Lodge office. I think Lodge Secretary and then Lodge Chief. Frank still holds the record for the youth who holds the most consecutive years of service as a Lodge Officer. He was elected Lodge Chief 3 years in a row. Although we have had many Vigil Honor members, Chapter Officers, and Lodge officers come from T402 since then, Frank is the only one of the original youth elected to make Vigil (I held my Vigil years later as an adult). Frank has since served as Lodge Adviser for a different Council and I served as Lodge Adviser for Mowogo.
We attended CRM Summer Camp in 1981 and 1982.
T402 went to Philmont the summer of 1982 with the Council Contingent. T402 and scouts from Hartwell Ga. made up one of the treks. Randy Durden was a trek advisor with a separate group and Mr. Huff was our Trek Advisor. Tim Bryan, Mike Huff, Earl Harris, Frank Harper, David Garner, Jeff Heffner and I were the T402 members. Nick Wimberly was our Contingent adviser and his son Tim Wimberly also attended. Basically, there was no such thing as 2 deep leadership on the treks.
When we were climbing out of Clarks Fork up Mt. Phillips, Mr. Huff had fallen behind. We waited for him a long time and were just about to go look for him when we saw him off in the distance. We met him half way up the mountain and found out that he had fallen and broken his ankle. We got him out to a staff camp the next morning. They had no adults to be with us so we were on our own for two days until they could get a ranger to us. What an awesome adventure.
From 1984 until 1999 I was fairly inactive with scouting. In 1999 I became a Tiger Den Leader. By this time both of the 402 charters had been moved from the Baptist Church; Cubs to the Church of Christ and the Scout Troop Charter back to the Methodist church. I got back active in 1999 and Daryl Silver took me to my first Roundtable Meeting. I was in blue jeans and scout shirt. During the meeting, Daryl said "Come on, there's someone I want you to meet". Next thing I knew it was, "Hey Mr. Wimberly, here's a new scouter that I'd like you to meet – you may remember him, it's Ed Lacey". Nick paused as he looked me up and down, then said, "you were one of Jim Huff's boys, were'nt you". I said, "Yes sir, do you remember me?". He just walked away without saying a word. Daryl said, "Well, I guess he remembers you".
A couple of years later, I went to Essential Outdoor Leader Training held at t32 and hosted by Mr. Wimberly. As the training started, he asked the group, "how many trail sign did you see on your way in this morning". Everyone just looked around. I raised my hand and said, "I'm sure there were more, but I noticed six". And named them. Later in the training he said, "you'll all find a rope in front of you. Tie a sheet bend". I quickly whipped one out and started helping show others how. From that day forward, Mr. Wimberly and I have been on very good terms. But I had to earn his respect as a scout.
I went up the food chain each year from Tigers to Wolves and Bears, but then they asked me to be CM for the pack. . By 2003 I was serving both as CM and as an ASM for the troop. Davis crossed over in 2003 and we went with the troop on its first Boundary Waters trip that year. The troop attended Summer Camp at Scoutland.
In 2005 we had a very large number of youth from T402 attend the National Jamboree at Ft. AP Hill Va. I think 8 youth and 1 adult. They were in Contingent T1908 and I served as second assistant scoutmaster for that troop. I believe it was this year that I started serving as the SM for T402. We attended summer camp at Skymont.
In 2006 we returned to CRM for Summer Camp and this was my first summer as Scoutmaster. We took 69 youth and 7 adults.
In 2007 T402 attended Philmont again. It was 25 years later. Tim Bryan was my tent mate in 1982 and I got him out of moth balls to serve as an adult for the 2007 trip. We were once again tent mates on our 25 year anniversary. We had 5 boys from T402 and 3 boys from Dr. Bruner's T16 in Gainesville (one leader from T402 and 3 from T16).
In 2008 we took 43 youth to Camp Crooked Creek KY for Summer Camp.
In 2009 we took 39 youth and 8 adults to Camp Rainey Mountain for Summer Camp
In 2010 T402 had a large number of youth attend the last Jamboree at Ft. AP Hill Va. For the 100th year of scouting. (I think about 14 youth and two adults at my best count) This time we were in Contingent T1901 and I served as Scoutmaster and my son Davis served as 3rd ASM.
I resigned as Scoutmaster at the end of 2010 turning the reigns over to Bobby Grizzle – because Council had asked me to be the Lodge Adviser and I didn't think anyone should be so divided between two jobs like these.